Speed Requirements for Video Streaming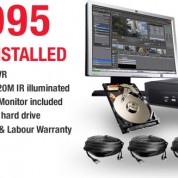 For those who stream video from online sources, the speed at which data can be sent into their home is critical. You don't want to have to wait for a long time while the video buffers or loads. This can happen when your connection isn't fast enough that the video sometimes stalls. This can also be caused by the content provider sending you a lower quality stream because your available speed can't handle anything more.
What most people refer to as "internet speed" is actually the bandwidth available to receive date from the internet into your home. It is measured in megabits per second and it is the amount of data that can be transferred from the "cloud" to your connected devices in one second.
As for now, no video streaming requires anything close to 100Mbps. But since all of the internet-connected computers and gadgets in your home network share the total bandwidth you're paying for so you would want to have a faster internet connection for a better streaming quality you would enjoy.
Some of us are willing to pay for more expensive fee as many internet providers charge a premium for faster speeds. For those who don't know why the overall bandwidth is low, you might want to check your neighborhood's network with internet providers. If your neighbors subscribe to the same cable provider or share your building's overall bandwidth, it is a possible cause why there is a decrease in bandwidth especially if you all want to stream at the same time.
To have an idea of your internet speed plan, look at your internet provider bill or check under internet services on your cable or phone bill. You can also test your current internet speed using the speed test websites. If you want to upload and view your photos or watch online videos, consider opting for a faster internet package.
The need for faster speeds will continue to grow. There will be a time when we will be streaming 4K video or we'll need more bandwidth for high-resolution audio formats. Whatever the case may be, we might find uses for gigabit internet speeds in the near future.
Comment(s)
Marlys | August 04, 2014 - 01:14 PM
I had problems to find your blog in google search results. I found it on 17 spot, you have to build some high authority social backlinks , it will help you to rank to google top 10. I know how to help your website, just search in google - k2 seo tips
Leave a Comment
Your email address will not be published. Required fields are marked *